EVENSTAR DESIGN PRICE LIST
Book formatting is for paperback and Kindle eBook. This is an all-bells-and-whistles formatting service that includes images from
Deposit Photos
for chapter header image and divider, custom fonts for header/footer and chapter header and drop caps. Prices are divided by number of chapters.
If you are publishing wide (outside of Amazon) then you will need an ePUB. A MOBI file is required to send out Advance Reader Copies in a Kindle-friendly format. This comes at an add-on cost. They will look slightly different to the Kindle eBook but I aim to make the design work collectively across all formats.
If you would like your book to be converted to a different size for a hardcover version, please contact me for a quote.
I will require your manuscript to be sent to me in a .docx (Word document) format.
Please 
email me
at info@evenstarbooks.com to enquire about availability. If we are able to work together, I will send you the link for the formatting consultation form.

(Prices in USD and EUR are approximate based on exchange rates in June 2021) 
(Prologues/epilogues count as chapters)
Some people want to format their books themselves, but ask me to create stand-out images for their chapter headers and dividers. The price below includes one chapter header design and one divider design. If you require more designs for your overall look, i.e. for multiple POVs, please contact me to discuss.
I also create
custom logos
for authors and publishing imprints. Please view my
logo portfolio
for examples of my style.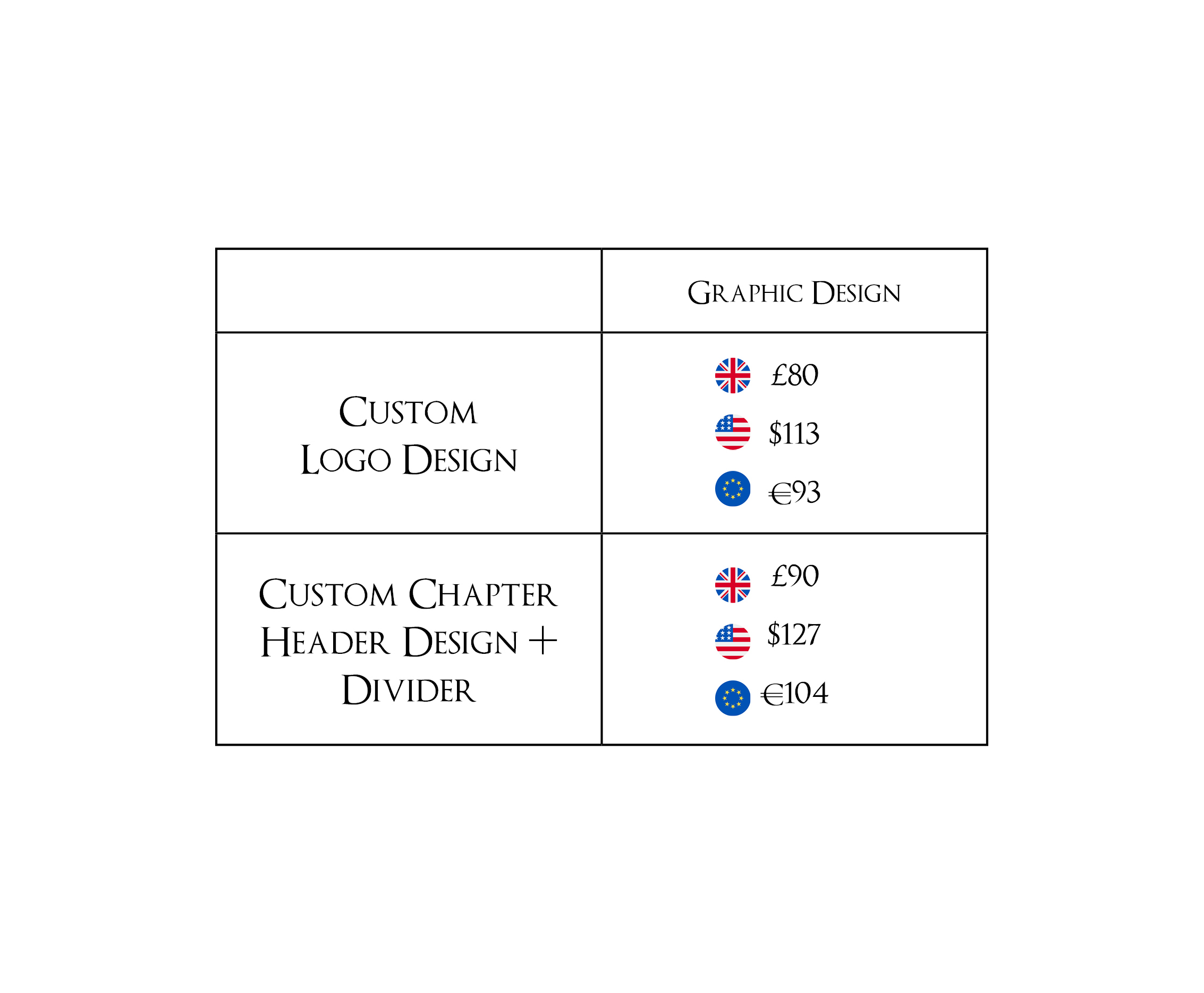 (Prices in USD and EUR are approximate based on exchange rates in June 2021)
PAYMENT:

— Invoices are in GBP (£) and so price of services in other currencies will depend on the exchange rate at time of payment.
— Payment will be 50% beforehand and 50% on completion, unless agreed otherwise.
— For books over 50 chapters, please get in touch for a quote.
FILES AND EDITS:

— Files received will be PDF and KPF (Amazon Kindle) and ePUB and/or MOBI if the add-on is selected. You will not have access to the editable files that I use to create the final uploadable files.
— Formatting should be done post-editing and post-proofreading.
— Formatting services include ONE free set of minor corrections for when  typos/mistakes are found. (Within reason: multiple changes to your manuscript will require a reformat at 50% of original cost.) Any edits required after this will be charged on a case by case basis.
— Services do NOT include a proofreading service, however if I come across any mistakes in your manuscript then I will point them out to you with the page number and the error in my final email.
BACKUPS:

— I provide a FREE two-year archiving/backup service. Please let me know if you would like me to keep your completed manuscript on our servers, free of charge. If you require a copy of your manuscript in the two years from completion, just email me. Simple as that! Files will not be kept after two years.
IMAGE LICENSING:
— Parts of images used for chapter headers, dividers and logos are from depositphotos.com. These stock images cannot be used in images/logos that will be trademarked, exclusive, or used as part of a service mark. Images are non-exclusive so will be used by other users, either in total or in part.
OTHER:

— Please make sure to leave enough time between the end of formatting and your
publication date to order a proof copy and have time to make any changes required.